Institute of Natural Health Science (INHS) is now affiliated to the Lincoln University College (LUC), Malaysia. LUC is fully recognized by the Government of Malaysia, World Health Organization and several international private and public organizations.

INHS has been accredited by the American Association of Drugless Practitioners (AADP). The AADP is recognized globally as an autonomous accrediting board for alternative health educational institutions and curriculums. Graduates of INHS school are eligible for additional Board Certification from the AADP.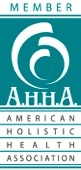 INHS is ISO 9001:2015 certified education institute. This shows our commitments to providing quality education at an affordable cost for everyone.