Description
What Can a Certified Holistic Nutrition Consultant Do?
Diet and lifestyle evaluation
Educate about healthy eating
Meal planning
Suggestions and recommendations for improving lifestyle
Suggestions and recommendations for managing stress
Meal plans for optimizing weight, mood, and energy
Educate on wellness and holistic nutrition
Guide clients on health supplementation
Advise therapeutic menu and nutrients
Research health issues and topics
Review laboratory assessments
Summarize case and group findings
Educate professionals and consumers
Consult with a licensed practitioner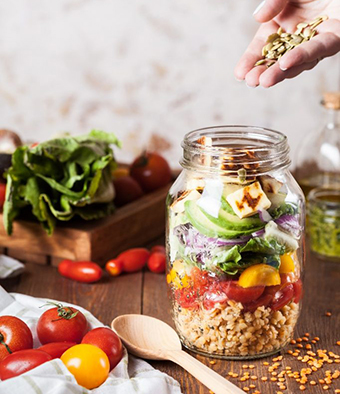 Program contents and eligibility:
Contents:
With this program you will get all of the knowledge, skills and expertise that are required to become a successful Certified Holistic Nutrition Consultant.
All required course materials
Digital eBook or physical textbook

(Almost all eBooks are included)

Different meal plans
Self-assessments and assignments
Necessary forms and guidelines for starting your own business
Online final exam
Exam Requirements:
You need a minimum final exam grade of 85% to pass.
A $50.00 retest fee will apply.
Eligibility:
To enroll into this Program, you must:
Be at least 18 years of age.
Have an excellent understanding of the English language.
Course Duration:
After successful completion, you will earn the title of "Certified Holistic Nutrition Consultant" on your certificate.
Accreditations and Memberships:
INHS is an accredited training provider by the International Practitioners of Holistic Medicine (IPHM). Certified graduates can apply for the IPHM credential.
All INHS nutrition and health courses' curriculums are accredited by American Association of Drugless Practitioners (AADP) credentialing board. Certified graduates can apply for the AADP credential.
INHS is a member of International Accreditation Organization (IAO) accreditation body, confirming that all the courses provided by INHS are of international standard maintaining highest quality.

The Curriculum in Details:
Part 1:
The fundamentals of Holistic Nutrition
The students will learn about:
Holistic Anatomy and Physiology and how they are connected with Holistic Nutrition
How Holistic Nutrition can help to live a healthy life, reverse chronic diseases and optimize wellness
The policies of the food and health industries and how to adapt to the challenges
Various herbs and plants and their benefits in optimizing health and wellness
Meal plans to suit different clients according to their needs
GMOs and how they affect us
Benefits of Organic foods
Latest researches about nutrition
The important topics included are:
Module 1: Holistic Anatomy and Physiology
This module covers the various body systems mentioned below and how to protect and optimize them.
Digestive System
Intestinal System
Circulatory System
Nervous System
Lymphatic System
Respiratory System
Endocrine System
Urinary System
Structural System
Module 2: How to avoid and treat 15 different life-threatening diseases
Heart Disease
Lung Diseases
Brain Diseases
Digestive Cancers
Infections
Diabetes
High Blood Pressure
Liver Diseases
Blood Cancers
Kidney Disease
Breast Cancer
Suicidal Depression
Prostate Cancer
Parkinson's Disease
Iatrogenic Causes
Module 3: The China Study – Research on Diet, Weight Loss and Long-Term Health
This module discusses the science behind nutrition which can help you to dramatically reduce your risk of cancer, heart disease, diabetes and host of other diseases just by changing your diet. These are based on extensive research by scientists and their findings which opened the eyes to the dangers of a diet high in animal protein and to the unparalleled health benefits of a whole foods, plant-based diet. Here we explore and discovers the keys to a long healthy life.
Module 4: The Whole Plant-based and Organic foods; and their benefits
In Module 4, we study about the research that revolutionized the way we think about our food with the evidence that a whole food, plant-based diet is the healthiest way to eat. We also explore the science behind that evidence, the ways our current scientific paradigm ignores the fascinating complexity of the human body, and why, if we have such overwhelming evidence that everything, we think we know about nutrition is wrong, our eating habits haven't changed.
The Module 4 is an eye-opening, paradigm-changing journey through cutting-edge thinking on nutrition, science tour de force with powerful implication for our health and for our world.
Module 5: Dietary Wellness for Healthy Life
In this module, we learn what and how to eat for a healthy living. How food combination can affect our health.
Precise Dietary Habits for Optimal Health
pH Balanced Diets for Optimal Health
Proper combination of foods
Dietary Wellness Planning Based On Bio-Individuality
Vegan/Vegetarianism verses Flesh Food Eating
Raw Foods Versus Cooked Foods
Food as Medicine
Module 6: Herbology
In this module, we study the benefits of different herbs and how they can be used on daily basis to improve our health. What you'll learn:
Better care for yourself, your family and your clients
Increase overall health and well-being
Help prevent chronic disease by reducing oxidation and inflammation
Support the healing of chronic conditions through foods and herbs
Reduce medical bills and visits by treating acute, non-emergency situations at home
Create highly effective tinctures, vinegar extracts and glycerites.
Perfect healing herbal-infused oils for topical applications.
Brew several different types of beneficial medicinal tea.
Benefit from healing poultices and compresses.
Enjoy great tasting medicinal honeys and syrups.
Learn about Essential Oils/Aromatherapy
Various herbal recipes
Module 7: Designing and Planning Diet
• Defining the Optimum Diet
• Modern Dietary dilemma and challenges
• Reverse-Engineering longevity with food and nutritional science
• The low-carb trend and the promises & pitfalls of Paleo Diet
• Navigating everyday food choices
• Health-Promoting foods to eat everyday
• Understand the Psychology and Physiology of food and pleasure
• Various recipes based on the Whole, Organic and Real foods.
Part 2:
Nutrition Counselling
Know the different strategies and practices for different types of assessment made which analyzes various health needs in regard to diet and exercise. Motivate, guide and educate the clients to set achievable health goals and various ways of maintaining these goals throughout their lifetime.
Upon completing the course and getting certified by INHS, the candidate can apply for the optional board certifications.
Certified Holistic Nutrition Consultant Online Course to Change Lives!